Young Greenwich is joining forces with Futureversity to deliver a range of summer activities to the young people of Greenwich. This year we have put together a brilliant summer offer and hope you will encourage you or any young person you know to be a part of this year's Greenwich summer fun.
Please see below for an overview of the summer programme:
When does the programme start?
Our programme will be running from Monday 25th July - Friday 19th Aug 2022 (excluding Weekends). The activities will be on set days, from Monday to Friday every week.
What times will it be? Can I choose
As we have over 40 courses available, each activity will have its own time slot you can see this when our booking slots open in a few weeks. You can choose which one you would like to attend (as long as there isn't a clash).
Who is the programme for?
The programme is for:
All young people who live, work or study in the Royal Borough of Greenwich. All young people aged 10-19 (or up to 25 for young people with special educational needs or disabilities. What activities does it include?
We have a range of great activities available and they are all very different? Whether you want to create your own Tik Tok campaign or make your own film, build the largest Lego piece or manage your own project, the choice is yours!
*PLEASE VIEW BELOW TO SEE ALL ACTVITIES ON OFFER*
*TO VIEW ALL DATES, TIMES AND VENUE OF ACTIVITES PLEASE GO TO THE BOTTOM OF THIS PAGE*
Is it free to attend?
Yes! All activities and sessions for this programme are free for young people.
Where do I sign up?
To sign up for an activities please visit below and click what activity you are interested in. Please note to book sessions you will have to create a Young Greenwich account
For any enquiries please contact futureversity@cact.org.uk or call 07896104694 ( working hours 9:00am- 5:00pm)
Please note bookings come at a first come first served basis.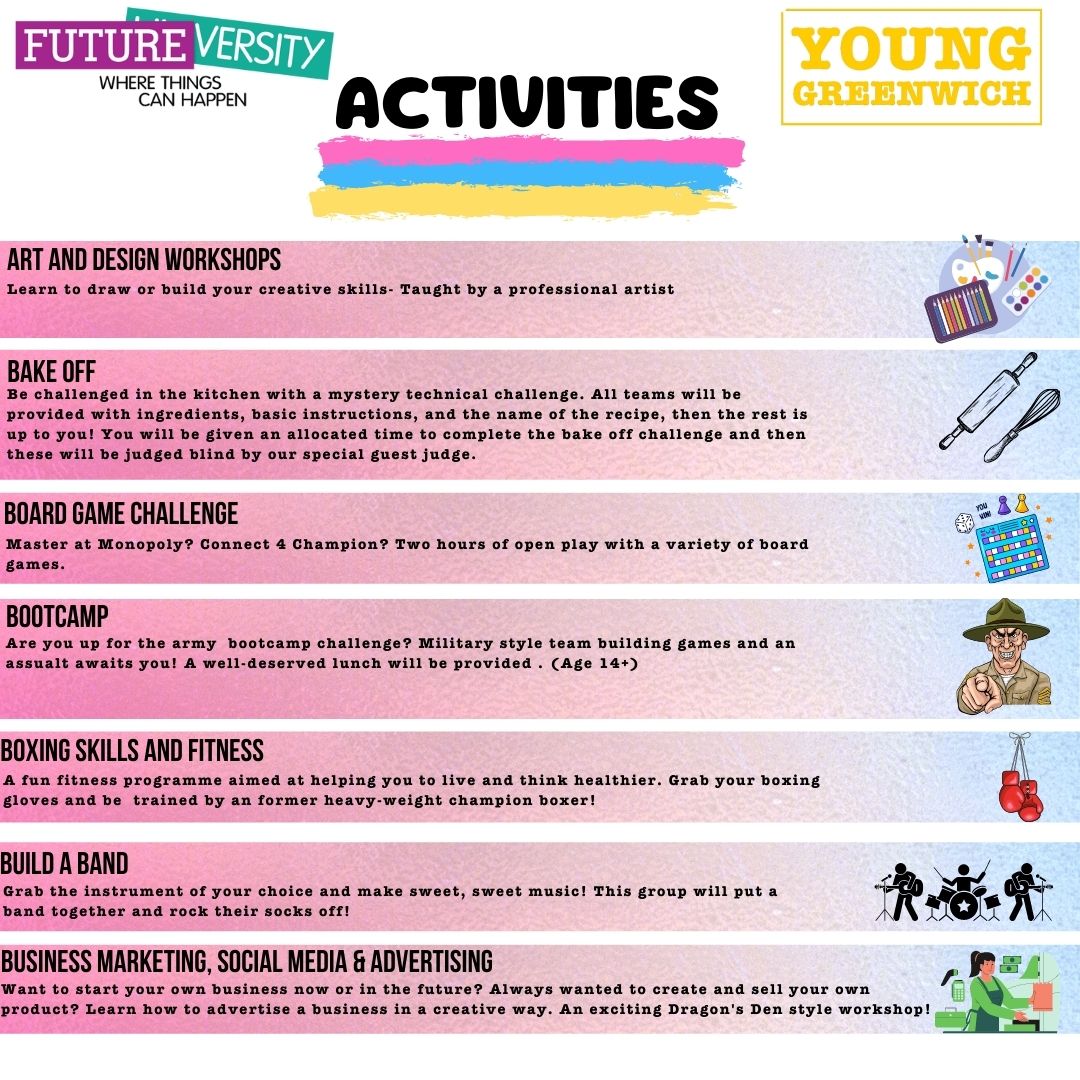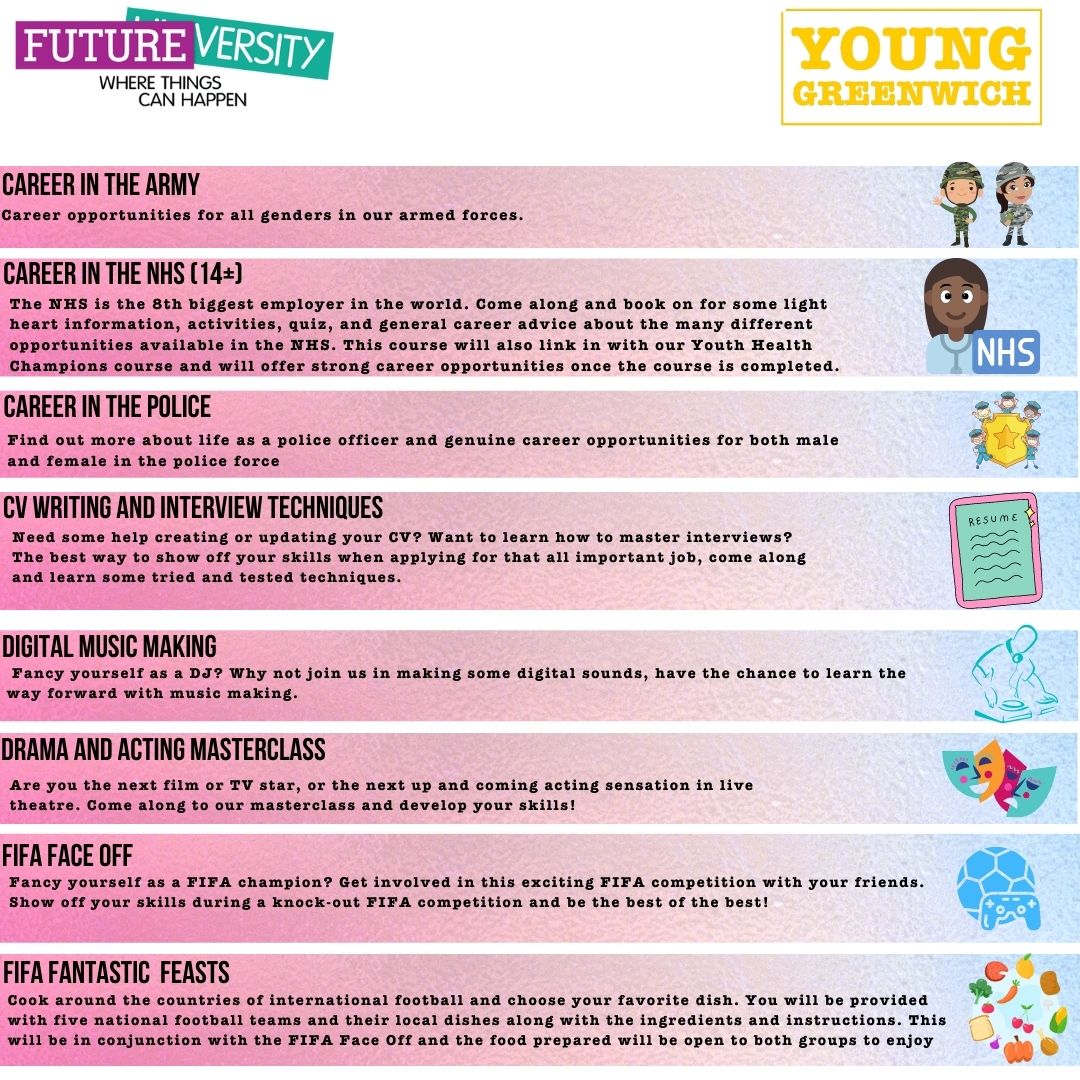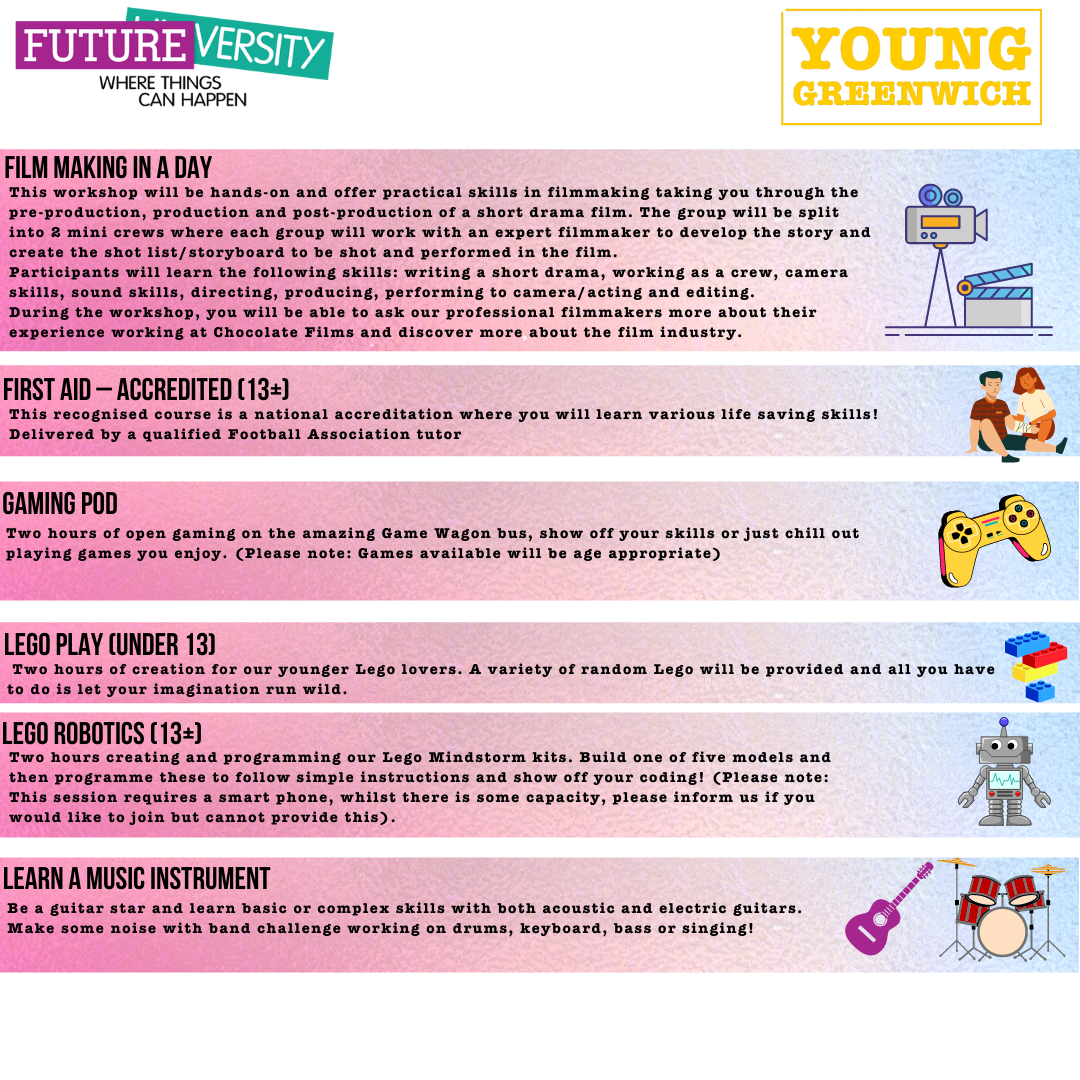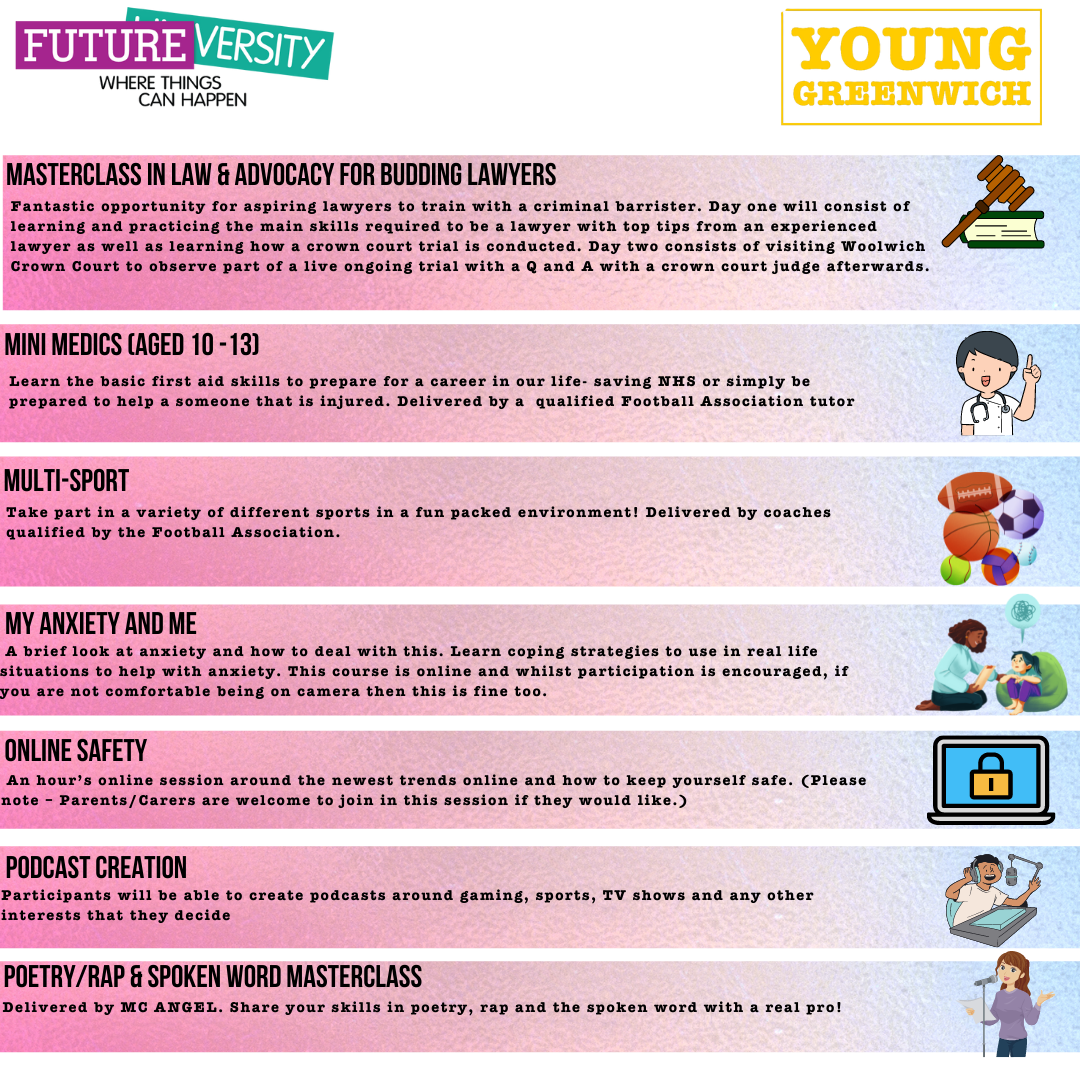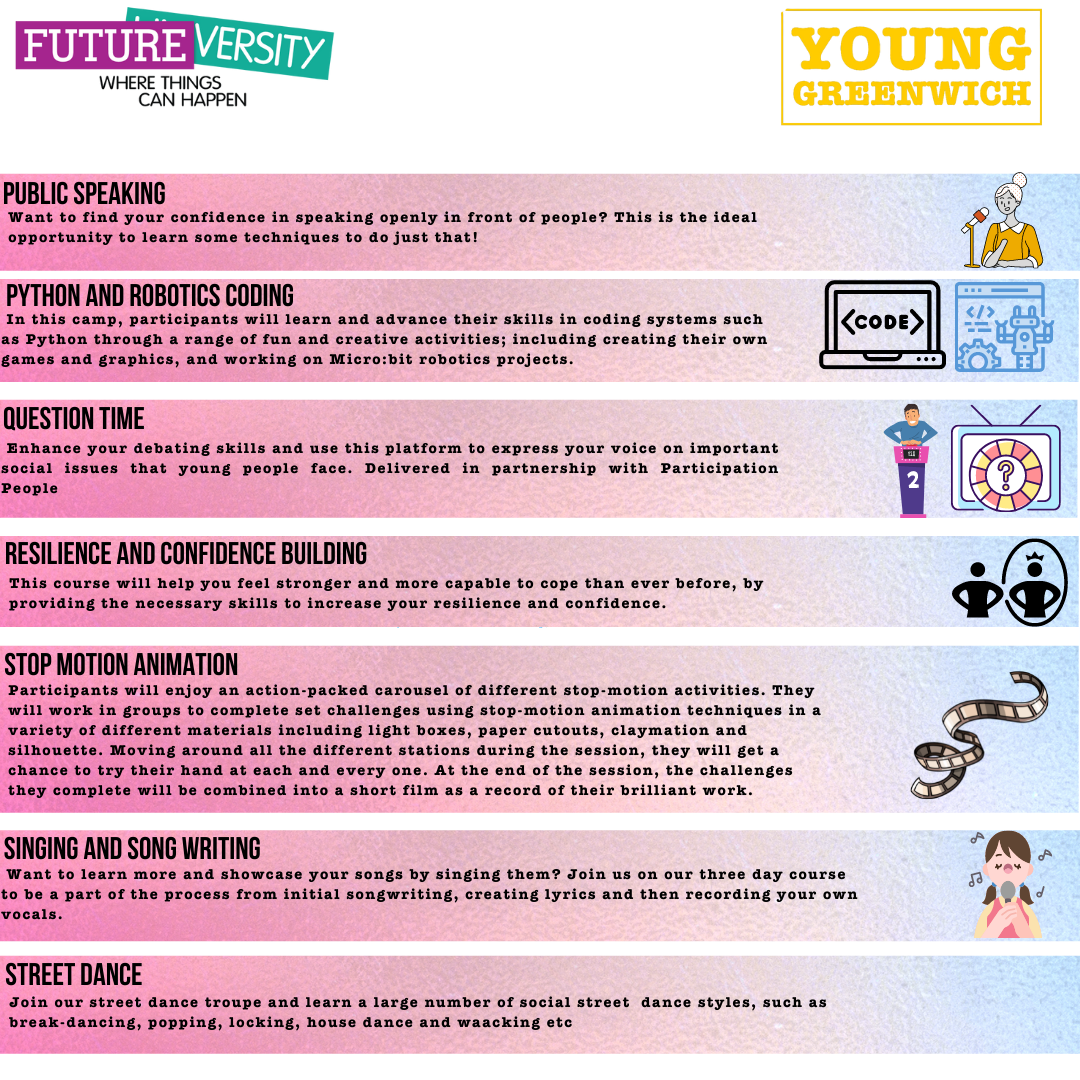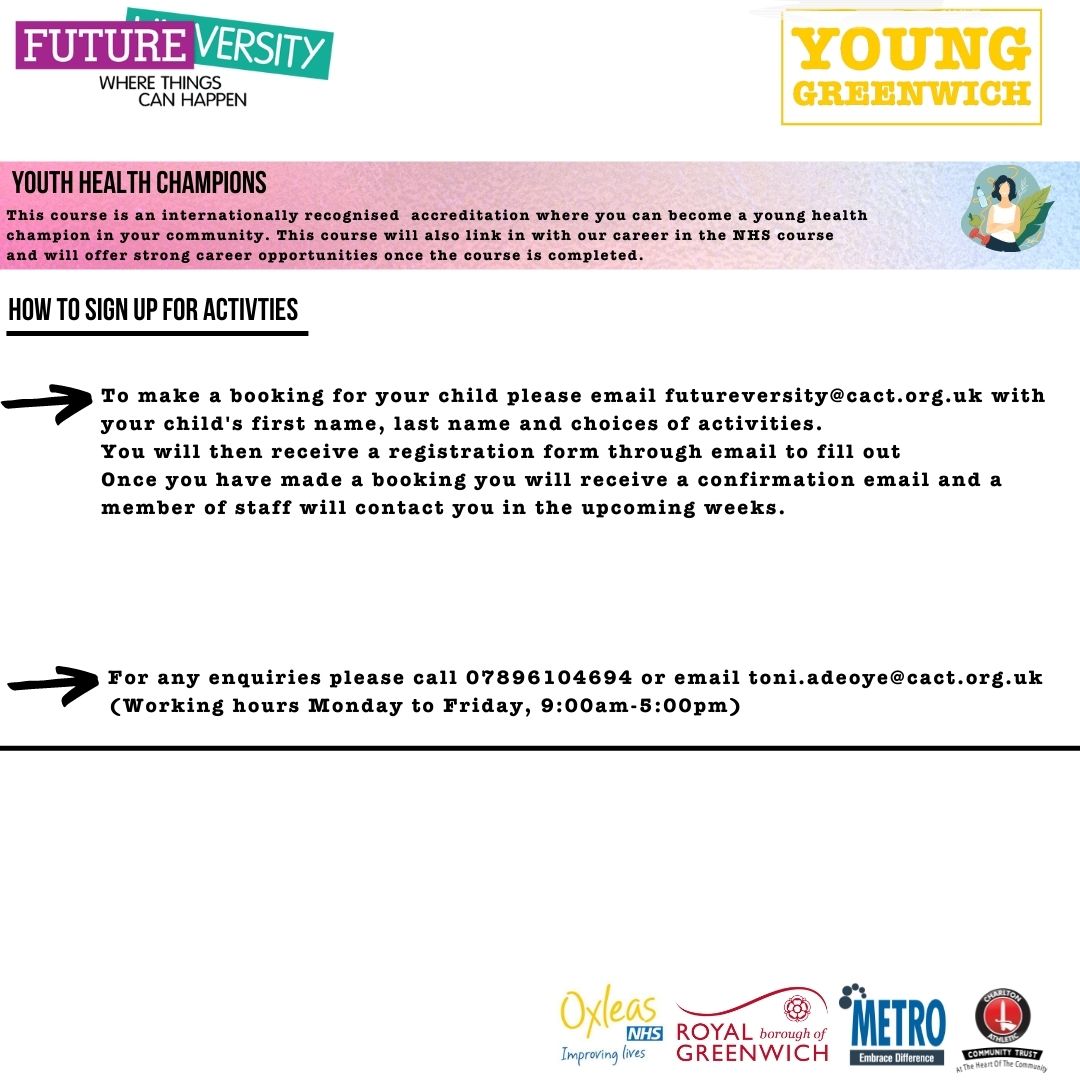 DATES, TIMES AND LOCATIONS
Bootcamp and Career in the Army (Assault course)
Career in Business, Marketing, Advertising and Social media
CV Writing and Interview techniques
Learn to make a musical instrument
Masterclass in Law & Advocacy for Budding Lawyers
Making a TV programme: Question time event
Multi Sports (Cherry Orchard Charlton)
Multi Sports (Spring Field Estate Charlton)
Resilience and Confidence Building